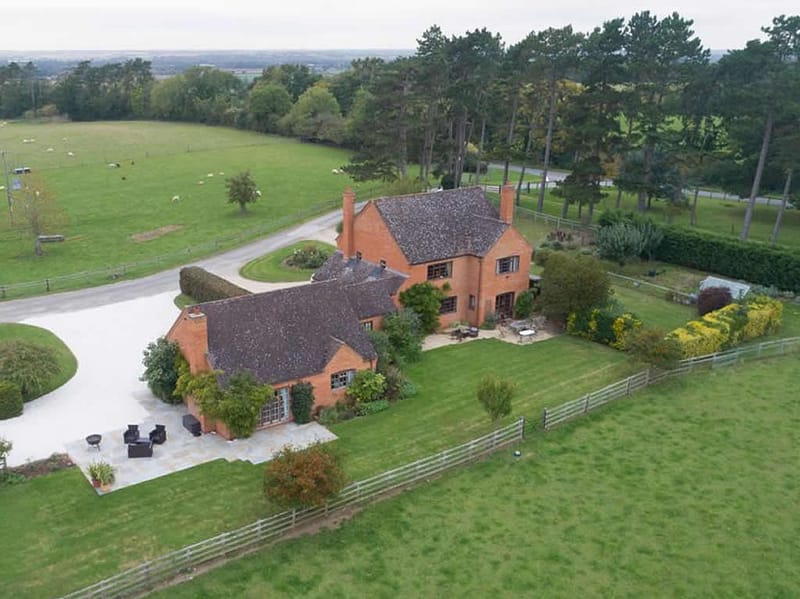 Hill Farm is nestled on a quiet hillside with fantastic views all around. It is a mixed working farm, situated in the heart of Warwickshire within easy distance of Stratford upon Avon and Warwick.
We have chickens and geese roaming around our farm that are happy to be fed by you each morning. There are plenty of grazing deer visible around, and an abundance of songbirds.
We like our visitors to feel its home from home and relax and de-stress, which is why we meet and greet our guests on arrival to show the properties as they arrive.  
We are situated just on the outskirts of Moreton Paddox hamlet, neighbouring the village of Moreton Morrell in Warwickshire.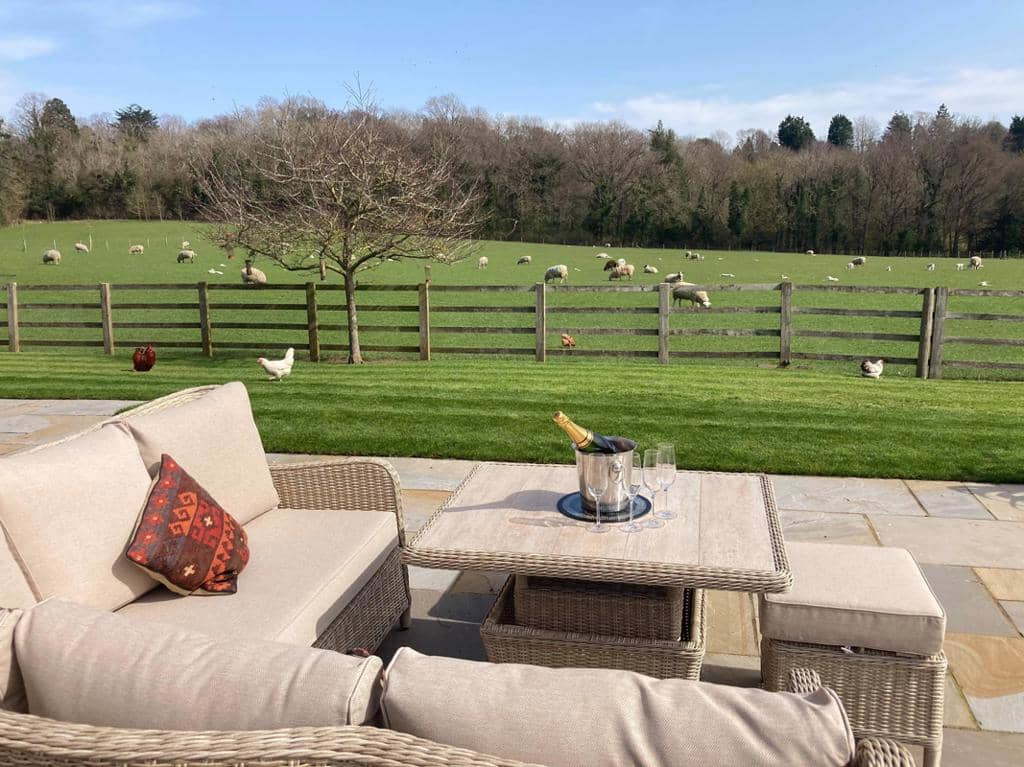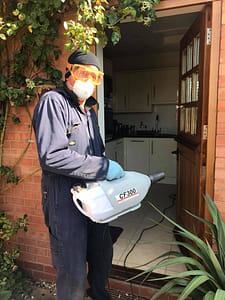 Our properties are subject to an enhanced clean, including fumigation with a Covipro ULV Fogger, on departure and before new guests arrive.
The CF300 disinfectant fogging machine works by expelling a very fine, almost invisible mist, in to the atmosphere which eventually settles on all surfaces, including those impossible to reach by conventional methods.
The Full Farming Experience
We have offered guests the full farming experience with tours around the farm in a pick-up for over ten years – when we are able to as this is a busy working farm. Children love it.
In season guests experience lambing, shearing and weaning. Children love to help collecting eggs and attending the Pygmy goats and on dry days we take guests around in our vintage tractor, great fun! We are always on hand to answer your questions and help you understand farm life.
Taster sausages or lamb are always available!
Night safaris can be arranged in the summer to see the wildlife including the local deer – children also love this.
We have great views, of the surrounding area best seen at haymaking and harvest time.
Amanda and Roy
Situated on a tranquil working farm with fantastic views, this two bedroom cottage features a fully equipped kitchen and comes with its own garden and fire pit.
SLEEPS: 4 BEDROOMS: 2
Price: from £420 to £1,200
The Burrow studio is perfect for a weekend escape Into the countryside.  A continental breakfast is included with your stay. There is a well equipped kitchen, toiletries, free wi-fi and a private patio.
SLEEPS: 2 STUDIO STYLE ACCOMODATION
Price: £95 incl. continental breakfast
Hill Farm is a Caravan and Motorhome Club certificated location, which accepts just five caravans or motorhomes and is for club members only.
PITCHES: 5
Price: £10.00 per pitch
Set in the glorious Warwickshire countryside and surrounded by farm land our events field is the ideal location to celebrate your wedding, anniversary or hold a rally. 
Price:  Please call 01926 651269 for details
We aim to respond to all messages within 24 hours.
"The studio accommodation was very clean and thoughtfully equipped. The friendly rural environment was also much appreciated. "
David
A short break, which we both wished could have been longer.
"Our objective was to just chill and relax which we were able to do abundantly. Amanda made us more than welcome and nothing was too much trouble. We were very pleased with every aspect and will visit again. Excellent value for money."
Kathryn
weekend break with exceptional attention to detail very enjoyable
"The property had been cleaned and disinfected to a very high standard making us feel safe and secure. The Burrow was very comfortable and all that was needed for a weekend stay. Breakfast and other provisions being provided in a rental property was very welcome as we did not have to shop, or bring a lot with us. The homemade jam was delicious. There was plenty to do in the area though would advise booking in advance any particular place to visit as needed at present. We could not have been made more welcome and had a lovely break."
"Our 3-night stay at The Burrow was memorable... and for all the right reasons! Prior to arrival, when we arrived and throughout our stay, hosts Amanda and Roy were an absolute pleasure to deal with, and nothing is too much for them. They really do go that extra mile to ensure that you as guests are comfortable and have the best possible experience (whether it be tips on where to go or simply answering any questions about the accommodation). The choice of breakfast items is outstanding, and the location itself is perfectly situated if you want to visit Stratford-Upon-Avon, Warwick and Leamington Spa, as well as other beautiful spots in the countryside in Warwickshire and beyond. I can't recommend a stay at The Burrow enough. "
"Amanda was amazing. So friendly and welcoming. Such a lovely lady and made us feel at home. The room was so clean. Our whole stay was exceptional and we will defiantly be booking again"
Leanne
Fantastic thank you! 🙂
"Amanda was fantastic and very attentive. Breakfast was lovely with a wide selection of foods. The accommodation was perfect for what we were looking for. We would definitely return in the future if we were to visit again."
Lynette
What more could you ask for?
"It had everything we could wish for and more. Very well equipped home from home. Great breakfast for us to prepare when we wanted it. Choosing what to have from great selection difficult. "
Directions before we even arrived to help with finding the farm, warm welcome even on a cold dark evening. Amanda is very friendly and explained all we needed to know about The Burrow. Plenty of supplies kept us going all week - beautiful touches too like Croissants to warm for the mornings! Lovely toiletries should you need them. Comfortable, homely and tranquil and nothing to change! Love that even though on situated on a working farm you wouldn't know - not disturbed by anything very considerate and morning greetings with the geese was quite a novelty! Beautiful views feels remote whilst also being accessible easily to local areas, a real homely get away away from the rat race. Felt like one of the family during our stay - flooding mid week due to weather conditions but Amanda made sure to warn us and ensure our safety whilst also suggesting things to do so we didn't miss out! Would highly recommend to all! Disliked · Wouldn't change anything, even the one day the weather caused chaos didn't ruin anything!
Leigh
Luxurious Home from Home
Lots of extras, food and toiletries , really comfy bed with lovely bedding. Beautiful peaceful location.
"Provisions were wonderful, but as we were visiting places and family we were unable to use up much, or be able to sit outside at this time of year. Although 'out in the country we managed to get Uber transport to and from Leamington."
Owner was friendly & helpful. The room including the kitchen area was great & the choice of breakfast items in the fridge & cupboards was amazing. Couldn't fault the place at all.
Excellent location being about 10 minutes from Gaydon motor museum and 20 minutes from Stratford-upon-Avon. Amanda & Roy were brilliant hosts ; very friendly and accommodating. The room was very well equipped with every detail thought about. Toiletries were supplied should you have forgotten anything and the selection for the continental breakfast was very good too. Would love to return & would highly recommend.
Loved everything - it was like having a couple of days therapy staying at Hill Farm, away from the hustle & bustle of work / people / noise, the whole experience was simply gorgeous and the bed was perfect for a bad back. Very glad I had my wellies in the boot so I could explore a bit. I will be going back when I next get chance. Thanks Amanda & Roy
Alan
Thoroughly enjoyed the stay. Hosts very friendly and helpful. Beautiful location.
Great location. Extremely nice hosts. Very clean.
Marvellously relaxing place to stay. Fabulous range of breakfast goodies provided by the owners. Everything you need - including fresh eggs. Very lovely shower / bathroom. Extremely comfy bed. Outside space to sit, relax and enjoy the sitting sun. Fully recommend it.
Wonderful quiet location with excellent facilities and great hosts
The bed was super comfy, and the owners we're great, excellent flat, your own patio seating outside, really pleasant countryside location and all was great. Many thanks.
very pleased with everything , very clean/tidy, lovely hosts, would recommend.
Michael
Relaxing, home from home
comfy, breakfast selection very good,
Lesley
Excellent central location for touring The Cotswolds
Views. Quietness. Comfort, friendly and well equipped.
Steve
A practical and comfortable place to stay.
Great welcome, clean and comfortable plenty of breakfast items provided and great to have kitchen facilities when working away from home.
Bob
Relaxing, peaceful short break
It was a lovely place to stay and we enjoyed the peace and quiet and watching the wildlife out of the window. There was so much choice of breakfast food available for your stay and Amanda and Roy are really nice people and make you feel at home.
Mark
Altogether very pleasant and relaxing indeed
The setting and peacefulness
Cynthia
Friendly host, comfy bed, the breakfast items were plentiful, relaxing environment.
The Burrow is small but perfectly formed, what more could one ask for... Everything we needed for our brief 2-night stay, a comfy bed, friendly host, relaxing atmosphere, and if you forget your toothbrush, no problem! The breakfast provisions are a real treat and plentiful! The attention to detail is wonderful! Beautiful views. Amanda was very welcoming and provided lots of information about the area. Definitely recommended!
Lee
The Burrow was cosy, clean and comfortable and provided a great continental breakfast too!
A warm welcome. A very comfy bed and very good facilities.
Catherine
Memorable for all the right reasons!
The Burrow is very well designed and great care has been taken over the layout. Very good quality fittings; the kitchen is a proper one with full-sized oven and fridge. The bathroom ihas plenty of space and is well-planned. Beautiful views and very quiet. The owner is warm, friendly and considerate of customer needs. Amazing value for money - better than many hotels in the area can offer. Strongly recommend.
Sonia
Truly beautiful and spending only two nights, we felt that we were there for a week's holiday, trulysons!
I loved the variety with regards to breakfast....spoilt for choice with a big wow. Location perfect and seeing some of the farm animals, videoing the noisy geese was all beautiful and so much fun. Thank you to both Amanda and Roy. We'll be back😁.
Thirza
Lovely location,superb host and brilliant accommodation.
The comfortable, warm, well equipped and provisioned up to date stylish accommodation was the ideal place for us to recover after a long journey. The owner was so welcoming and helpful. The range of items offered to make ones stay perfect was exceptional. We would recommend this beautiful location to anyone wishing to escape the business of life.
Lee
Excellent! Happy! Memorable!
Amanda and Roy are the most Guestly people you can meet! We had a fantastic weekend there! It was just perfect. I would highly recommend staying here or in the available cottage next door. We were more than happy and we plan to stay again soon! Its quiet clean and has everything you need and its situated between Stratford and Warwick! 10/10 Thankyou 😘
Compact but well appointed, comfy bed, well equipped kitchen despite the size. Lots of things in case you forget your own!
James
A little gem of a place to stay
Superbly appointed flatlet. Very hospitable owner. A great place to stay
We only stayed one night (in transit to an event). The Burrows was a perfect place to stop over. Very comfortable, very peaceful night's rest, excellent facilities and very friendly owners. Can highly recommend
Anonymous
Welcoming, Clean and Quirky
The Burrow was very clean when we turned up. My girlfriend and I were staying for 3 4 days and Amanda had stocked our fridge with home made jam, milk, fresh eggs etc. Also with The Burrow being situated on a farm it is the perfect stay for couples looking to be in the countryside and explore woodland.
Wonderful breakfast choices. Spotlessly clean
Jouke
Jantsje en Jouke vonden het een prachtig verblijf
Prachtig appartement, rust, heel vriendelijke mensen
Allison
The accommodation and hosts made it a perfect stay
There are no comments available for this review
Brigetta
Fantastic secret haven found!
There are no comments available for this review
There are no comments available for this review
Fernanda
A perfect relaxing long weekend
There are no comments available for this review
There are no comments available for this review
There are no comments available for this review
There are no comments available for this review
There are no comments available for this review
There are no comments available for this review